Healing Plants - Alphabetically listed from B through to L

Herbal Actions 2.

We probably all know, or rather think that we know, that there is a wealth of healthy healing plants available to us.
But do we know what the medicinal properties of these plants are?
More than likely we don't have a clue.
So... what we have done here is, that we have tried to make this easier for us, the normal guy in the street, by firstly listing the common medicinal action and the  plant or plants attributed to these traits.
We have gone one step further, by explaining in simple terms, what the medicinal action actually means.
Some words are self-explanatory and no further description is required.



---
BALSAMIC:  "Means balsam-like in the sense of "restorative" or "curative.

borage
eucalyptus
myrrh
tea tree oil



---
BLOOD PURIFYER

---
BONES AND JOINTS

devil's claw
feverfew
garlic
ginger
peppermint
primrose
red raspberry
St John's Wort
sarsaparilla
wintergreen



---
CARMINATIVE: "Is a herb or preparation that either prevents formation of gas in the gastro-intestinal tract or facilitates the expulsion of gas, combating flatulence".

camphor
catnip
chamomile
clove
echinacea
ginger
lavender
lemon balm
motherwort
peppermint
rosemary



---
CHOLAGOGUE:"Cholagogue is a medicinal agent that promotes the discharge of bile from the system".

oregon grape
soapwort
wild lettuce



---
CHOLERETIC:   "An agent that stimulates the liver to increase output of bile"'

---
CHOLESTEROL INHIBITOR

---
CIRCULATORY STIMULANT

---
DECONGESTANT:" A decongestant is a type of pharmaceutical drug or substance that is used to relieve nasal congestion".

---
DEMULCENT: "An agent that forms a soothing film over a mucous membrane relieving pain and inflammation.

---
DEPURATIVE: "Used for, or capable of depurating, purifying, a purgative".




Balm of Gilead
red clover
sarsaparilla
soapwort






---
DETOXIFIER:  "To get rid of poison or its effects".

alfalfa
cat's claw
dandelion
garlic
ginger
goldenseal
elderberry
holy basil
oregon grape
rosemary
yellow dock



---
DIAPHORETIC:  "Is the state of sweating profusely, commonly associated with shock and other medical emergencies".

angelica
burdock
catnip
elderberry
soapwort
tea tree oil



---
DIGESTIVE AID

aloe
anise
chamomile
elderberry
ginger
gingko
golden seal
parsley



---
DISINFECTANT: "Disinfectants are subtances that are applied to non-living objects to destroy micro-organisms that are living on the objects".

holy basil
oraganum
red sage
tea tree oil



---
DIURETIC:  "A substance that causes more uring to be secreted".

astralagus
bearberry
betony
burdock
dandelion
dong quai
fennel
hawthorne
holy basil
horse chestnut
lime flowers
marjoram
meadowsweet
milk thistle
nettles
raspberry leaf
red clover
saw palmetto
soapwort
watercress



---
EMMENAGOGUE: "Are herbs which stimulate blood flow in the pelvic area, some stimulate menstruation".

angelica
lavender
motherwort
rue



---
EMETIC:  "A substance or agent that induces vomiting".

---
EMOLIENT:  "A substance that softens and soothes the skin".

---
ESTROGENIC:  "Having the properties of, or similar to, estrogen".

---
EDEMA REDUCER:  "Edema means swelling caused by fluid in your body's tissues".

---
EXPECTORANT: "Is an agent which dissolves thick mucus and is usually used to help respiratory difficulties".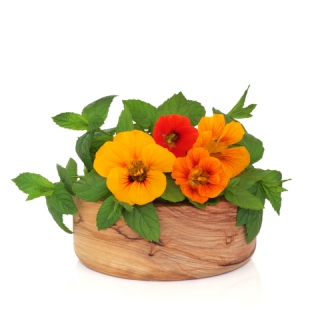 cinnamon
elderberry
eucalyptus
ginger
holy basil
marshmellow
nasturtium
peppermint
red clover
saw palmetto
soapwort
tea tree oil
watercress

---
FEVER REDUCER

chamomile
feverfew
horse chestnut
lavender



---
HEPATIC
angelica
fenner
motherwort
oregon grape



---
IMMUNE SYSTEM STIMULANT

astragulus
echinacea
elderberry
ginger
ginseng



---
LACTATION STIMULANT

---
LIVER TONIC

---
LAXATIVE: "These are foods, compounds or drugs taken to loosen the stool, most often taken to treat constipation."

aloe
dong quai
motherwort
oregon grape
parsley
wild lettuce



---
LYMPHATIC TONIC:  "Promotes the health of the lymphatic system".

burdock
calendula
echinacea



---
To the top of Healing Plants
or else
Back to our Home Page

---
Take a moment to check out some of our most popular home remedies.......



---